"LEAD for SDGs Programme Spurs Action: District-Level Policy Dialogues Address Climate Action, and Sustainable Cities in Sindh"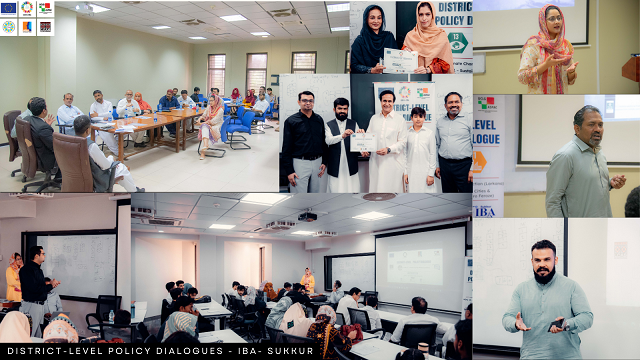 LEAD for SDGs Programme with the collaboration of the Local Councils Association Sindh successfully conducted Two district-level policy dialogues at Sukkur IBA University, addressing key Sustainable Development Goals (SDGs). The events were co-funded by the European Union and the UCLG ASPAC.
District-level policy dialogue on SDG 13 – Climate Change Action
The first dialogue, held on May 19, 2023, focused on SDG 13: Climate Action. It involved active participation from students, professors, and the Larkana District Alliance on SDGs. The discussions primarily centred around the impact of climate action goal – SDG 13 on various SDGs, particularly in relation to health – SDG 3. Several policy gaps were identified, including inadequate measures for disaster preparedness and response, insufficient allocation of resources, and a lack of intersectoral coordination.
The commitments made during the dialogue were oriented towards addressing the consequences of the 2022 floods in Pakistan and subsequent challenges, such as water sanitation issues. The intended outcome of the dialogue was to foster climate-resilient actions, including the construction of bamboo shoot homes to provide shelter in flood-affected areas of Larkana.
District-level policy dialogue on SDG 11 – Sustainable Cities & Communities & SDG Target 17.1
The second thought-provoking policy dialogue, which took place on May 20, 2023, focused on SDG 11: Sustainable Cities and Communities and SDG Target 17.1: Strengthen domestic resource mobilization. The panel discussion involved participants from the Nausharo Feroze District Alliance on SDGs, along with students and teachers. The dialogue explored policy gaps related to local resource mobilization, its challenges, and potential solutions. The participants discussed innovative approaches to enhance local revenue generation and engaged in policy-level debates on the devolution of resources from the national to the provincial and local levels.