Advocacy & Lobbying Meetings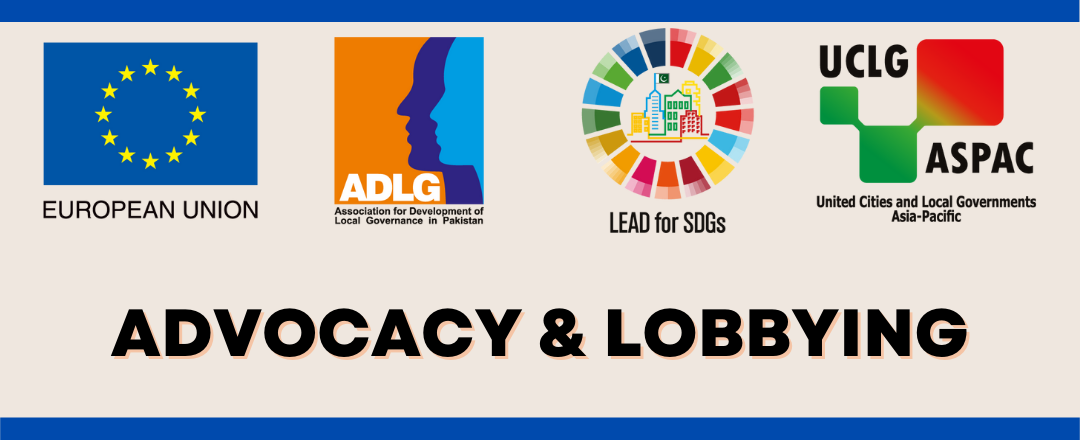 28 February 2022 with PPP Central President
Pursuant to the previous meetings with Chairman Pakistan People's Party and other senior party leaders, we hold a meeting with President Central Punjab Pakistan people's Party Punjab (Former Prime Minister of Pakistan) at his office in Lahore where other provincial leaders were also present. Team Leader Mr. Anwar Hussain had given highlights of the previous discussions held with party leadership during a couple of meetings with the centric points; continued and sustainable local governments in Pakistan. He enlightened us that we discussed the possible amendments in Article 140-A of the Constitution in line with the Supreme Court order in true letter and spirit. In this regard, the party leadership agreed and committed to taking necessary steps to play their role to introduce amendments to the Constitution.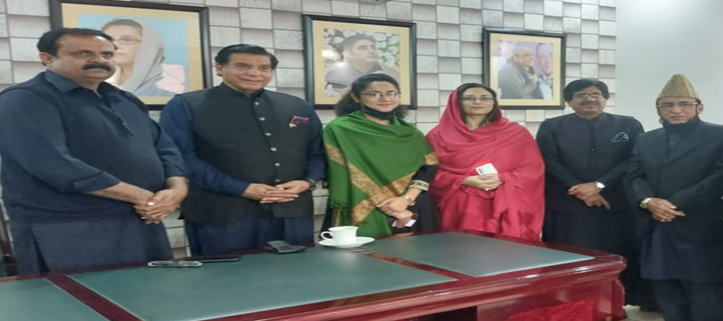 Honourable Mr. Raja Pervaiz Ashraf said that we needed to take steps towards the sustainability of the local governments and decentralize more functions so citizens could have easy access to municipal services. He also mentioned the global commitments including the agenda 2030 which can only be achieved by strengthening local governments. On the point of amendments in the Constitution to ensure the continuity of the local democracy, he showed his interest to take the lead in the national assembly. He further said that his senior leadership along with other political parties would discuss the content by engaging civil society experts, amendments shall be formulated and debate shall be also generated. He appreciated the struggle of ADLG and its partners for sustainable and empowered local governments. Mr. Hussain also suggested formulating a separate wing for local governments within the party to better cater to orientation to district level leadership on the local government laws. It is also agreed that an action plan shall be devised to share and follow just to support the party. ADLG Coordinator extended her support and it was agreed that awareness and orientation meetings would be held in Punjab not only for political party leadership but for common citizens as well.
Detail of participants, speakers, chief guest, and key bullet points of meeting/ event:
Participants:
Mr. Hassan Murtaza, Parliamentary leader of Pakistan People's Party in Punjab.
Mr. Raja Pervaiz Ashraf, President Central Punjab PPPP (Former Prime minister Pakistan).
Ms. Neelum Chaudhary, Additional Information Secretary Peoples Party Central Punjab.
Mr. Anwar Hussain (CEO- ADLG)
Ms. Zaib un Nisa, Coordinator ADLG.
Discussion Points:
Discussion on the empowered, uniform and sustainable local governments for achieving Agenda 2030.
Discussion to orient the district leadership.
Way forward/ follow up actions:
After detailed discussion agreed on proposed amendments. Agreed to formulate a local government wing in the political party.
2 February 2022 with Radio Expert
On Wednesday 2nd February 2022, a meeting was held at Institute for Democratic Education and Advocacy (IDEA) office in Lahore with Media experts. In the meeting, Mr. Salman Abid media expert, columnist, analyst and social development sector expert and Mr. Tanveer Shahzad, correspondent Voice of Germany Pakistan were present.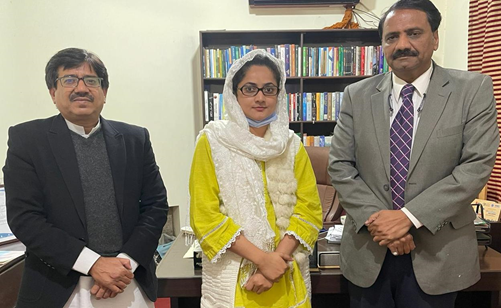 We discussed different aspects of SDGs localization in which an important area of SDGs localization is awareness-raising regarding the importance and requirements of Agenda 2030, and conveying SDGs goals, targets & Indicators to the people, that how the SDGs can provide a framework for local development policies, and how national and local governments can support the achievement of SDGs through action from the grass-root level. In this context, we had a detailed discussion on how we can work to localize SDGs and which forum can be used and how we can spread the information. Media experts had given different advice, suggestions & recommendations. Furthermore, we chalk out the plan for Radio Programme and its impact on people because radio is a widely used mass communication medium and has a great potential to disseminate information, also explained how it becomes a source of social change. In the end, Salman Abid said Radio programs are effective not only in informing the people about anything but also creates awareness among them. Mr Shahzad Tanveer said that for Radio Programme, one must need a detailed script which includes, the script of the program covering all, like the questions around the thematic area, possible answers, government efforts, relation with SDGs and alignment, video recording, afterwards use of the material on social media to further inform certain users, publish in newspapers and generate debate on the challenges and way outs.
Detail of participants, speakers, chief guest, and Key bullet points of meeting/ event
Participants:
Mr. Anwar Hussain (CEO ADLG)
Ms. Zaib un Nisa, Coordinator ADLG
Mr. Salman Abid ( Executive Director IDEA Pakistan)
Mr. Tanveer Shahzad ( Correspondent Voice of Germany Pakistan)
Discussion Points: Discussion that how we can work on SDGs localization and what channels we can use for spreading the information about SDGs localization
Way Forward/Follow up Actions: Create Awareness among people about the SDGs 2030 agenda through Radio Print & social media. Planned and agreed to host shows for creating awareness on SDGs Localisation