Where has TALD come from?
The Territorial Approach to Local Development (TALD) comes out of how the European Union (EU) understands local government: It recognises local government as an independent political actor which makes decisions about what happens within their geographic boundaries, delivers service to the citizens within their geographic boundaries and enables citizens to be closer to decision making that affects their community.
The EU sees the empowerment of genuine local government not as an end in itself, but as a means for empowering people with greater choice and control over the delivery of public services and local development.
What is TALD?
The term "Local" refers not just to a where (geographically), but also to how and by whom development is undertaken, promoted and supported. The leveraging of place-specific resources through enabling political and institutional mechanisms of governance and administration constitutes the critical difference between Genuine Local/Territorial Development, where decisions and resources are local versus the delegation of regional, national, or global development objectives programs for implementation at the local level.
It recognises that LGs are political actors (i.e. self-government mechanisms of a local political constituency) and not just managerial entities for the delivery of a specific set of services.
TALD does three things:
Understands territorial development as defined above

Values Territorial Development as a critical component of the National Development policy

Recognizes the primary responsibility of autonomous and accountable LAs for promoting territorial development, and empowers them to plan, finance and manage it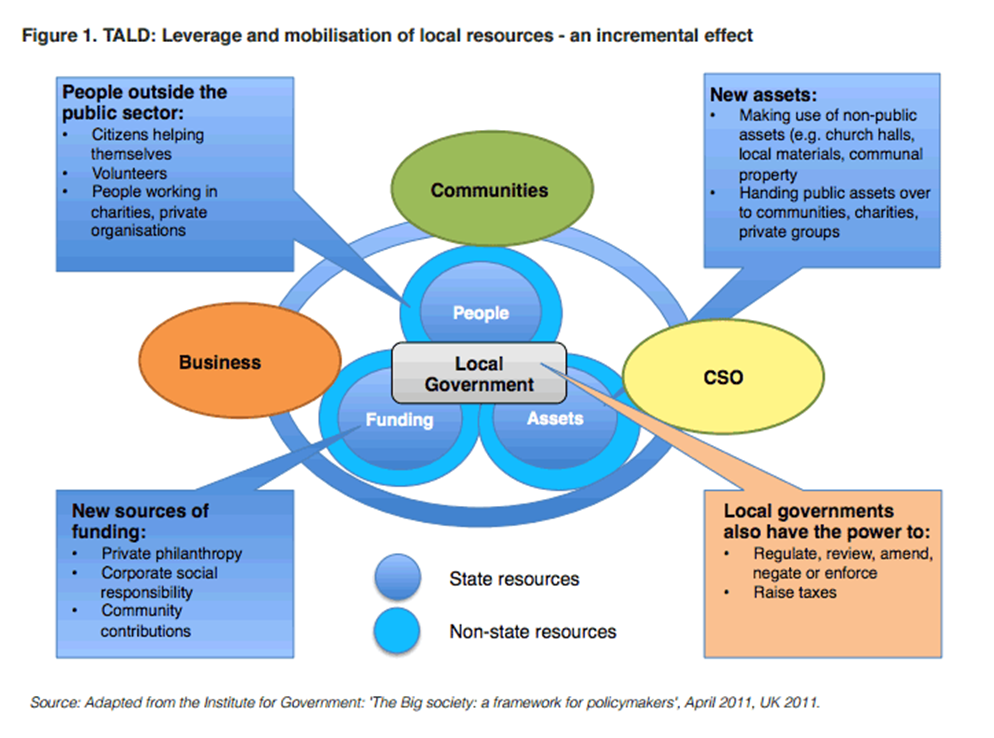 To understand everything about TALD, read the Toolkits below: