One Group of Minorities needed rather than Hindus, Sikhs, Christian, MPA Tariq Masih | National Minorities Committee Workshop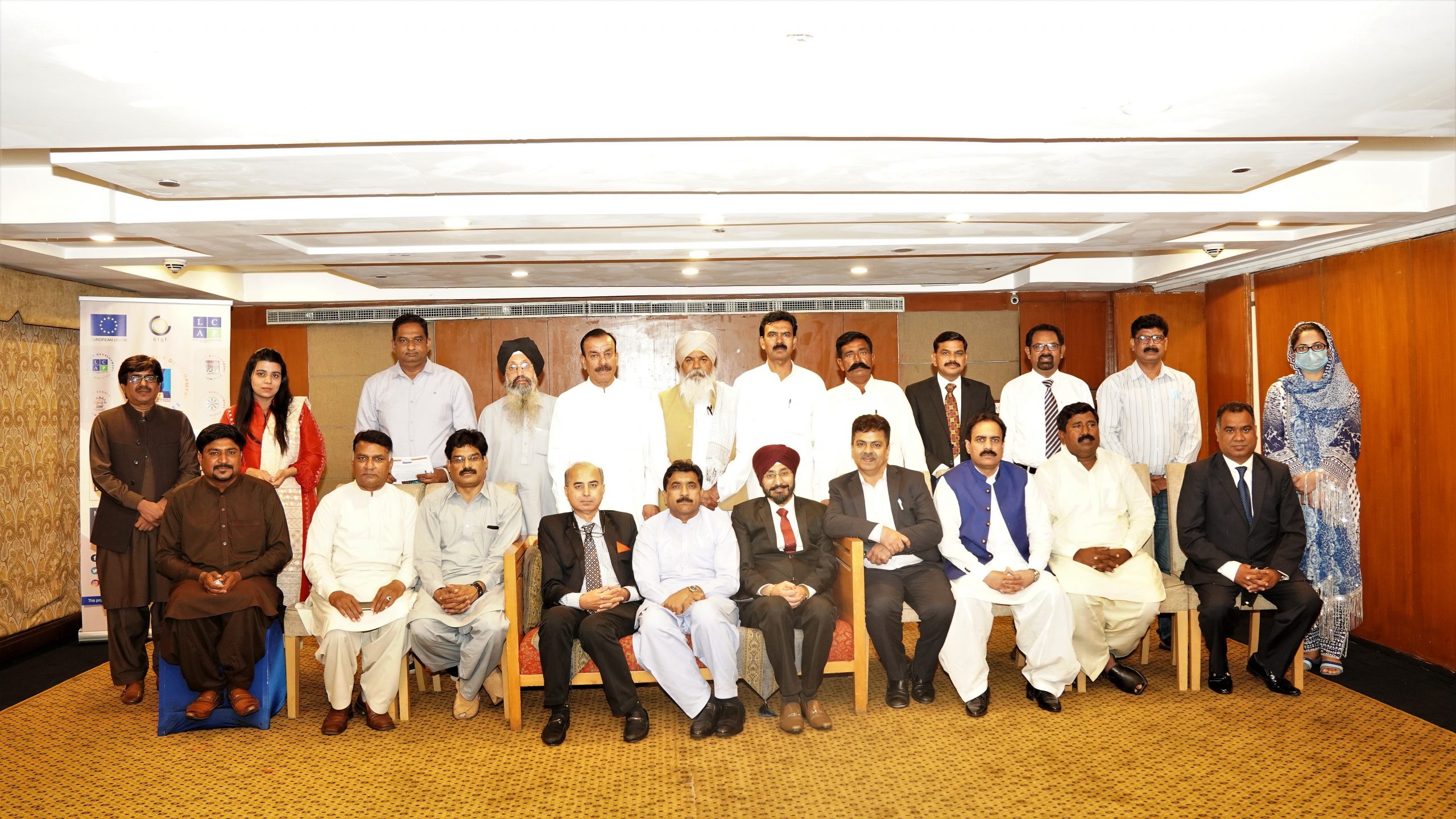 18 October 2021 (Lahore) LCAs of Pakistan collectively under the banner of ADLG to organize a workshop for the National Minorities Committee to develop a long-term Strategic Plan and alliance with the National Commission for Minorities for networking, coordination, and enhancing capacity building for prominent participation in local government. All the participants presented with great appreciation for the workshop and appreciated the efforts of LCA staff for arranging a successful workshop on Awareness about National Commission for Minorities.
Chief Guest Mr Tariq Masih (MPA) and leading members of the National Commission for Minorities Mr Jaipal Chabria & Mr Mimpal Singh Participated in the workshop to throw light on the main objectives of the Commission and how we can align the focal areas with MDC.
Chief Guest Mr Tariq Masih (MPA vividly demanded the coalition of all non-Muslim factions and work as one group of Minorities rather than Hindus, Sikhs, Christian and others. In this way, there is a chance to achieve a win over cruel and stigmatized culture against marginalized groups of Minorities.
This workshop is conducted by the Local Councils Association of the Punjab in collaboration with CLGF and the EU
The importance of local government members is hailed by him. He said that these local-level leaders are the true face of democracy. Citizens have only access to these leaders rather than members of parliament.
Religious Harmony is the greater priority these days.
He said it is necessary to engage all the political groups in the discussion for better minority-related legislation, both ruling and opposition groups. Minority leaders can only work on the legislations beneficial for their communities if they come in the parliament through direct elections, an elected leader rather selected.
Mr Eshwar Lal, Chairman Minority Development Committee, Sindh nominated as a Chairman of the National Minority Development Committee. Following members from the remaining three provinces were nominated as chairman of their respective MDC, Mr Bashir Masih as Chairman-MDC Punjab, Mr Shahzad Kundan as Chairman-MDC Balochistan and Mr Waqas Khokhar as Chairman-MDC Khyber Pakhtunkhwa.
Mr Anwar Hussain, CEO of ADLG facilitated the interactive session with Chief Guest, Mr Tariq Masih and engaged all the participants with updated information while moderating the whole workshop along with Mr Salman Abid.
The agenda of the workshop was divided into two sessions. Mr Salman Abid (Political Analyst) facilitated the workshop as moderator.
First Session: National Strategic Plan
The first session started with the Development of a Strategic Plan. Mr Salman Abid (Senior Journalist/PTV Anchor) as Local Government Analyst described four main emerging areas of challenges for Minorities:
– 1 Policymaking Problems
– 2 Implementation issues
– 3 Societal attitude
– 4 Gap in Political framework.
He described those basic principles are not being determined yet and should be provided by Federal Government for minorities representation.
The Strategic Plan Development process involved an open floor of discussion for National Committee members so that they raise their questions to highlight the challenges for carving the solutions. The main objective of the Discussion Forum is that how much fair representation of minorities is there in Local Government and is the presence really effective?
Following main challenges were highlighted by members around which LCAs plan will be developed:
1- Direct elections for Minorites
2- Reserved seats for Women Minorites
3- Percentage of seats for minorities should be increased depending upon the increased ratio of members in Parliament
4- Fixed development budget ratio should be allocated for minorities and utilization of that fund should remain in minorities possession
5- Budget allocation should be flexible in areas where minorities population ratio is more.
Depending on these main challenges and various cultural & religious challenges discussed in the forum, an Activity Plan draft for MDC was developed.
Second Session: National Commission for Minorities
The second session of the workshop was on Awareness on National Commission for Minorities' Mandate.
Mr Jaipal Chabria was invited on stage to highlight the main functions of the Commission. Mr Jaipal encouraged the participation of minorities in local government and emphasized the fact that for effective participation, the debate is important. Members should have a strong grip on their values, laws and policies to demand their maximum participation. The main functions he highlighted about Commission are;
1- Evaluating and monitoring the progress of development of minorities under federation and provided in laws enacted by Parliament and Provincial governments
2- Make recommendations for the effective implementation of safeguards for the protection of minorities interests
3- Look into specific complaints regarding deprivation of rights
4- Conduct studies, research and analysis on the issues relating to socio-economic and educational development for minorities
5- Paving the way for representative electoral reforms for minority members.
The stage was then shared by Mr Mumpal Singh who on the basis of challenges discussed by MDC members proposed suggestions to align MDC activities with the Commission's focal areas. He said as the Commission's terms of references state that it will formulate proposals for amending laws/policies which are reported to be discriminatory towards religious minorities, therefore, all issues discussed by MDC can be sent to Commission in writing and policies will be drafted for amendments in the respective laws.
Ms Maham Ahmed closed both these two rounds of the workshop by developing a draft for National Strategic Plan objectives and main Activity areas based on the challenges discussed in the forum. Four main Activity areas drafted are;
1- Equality in Participation
2- Capacity Building
3- Cultural Representation
4- Advocacy & Lobbying