LEAD4SDGs trained newly elected LG Members of Balochistan on SDGs & LG Law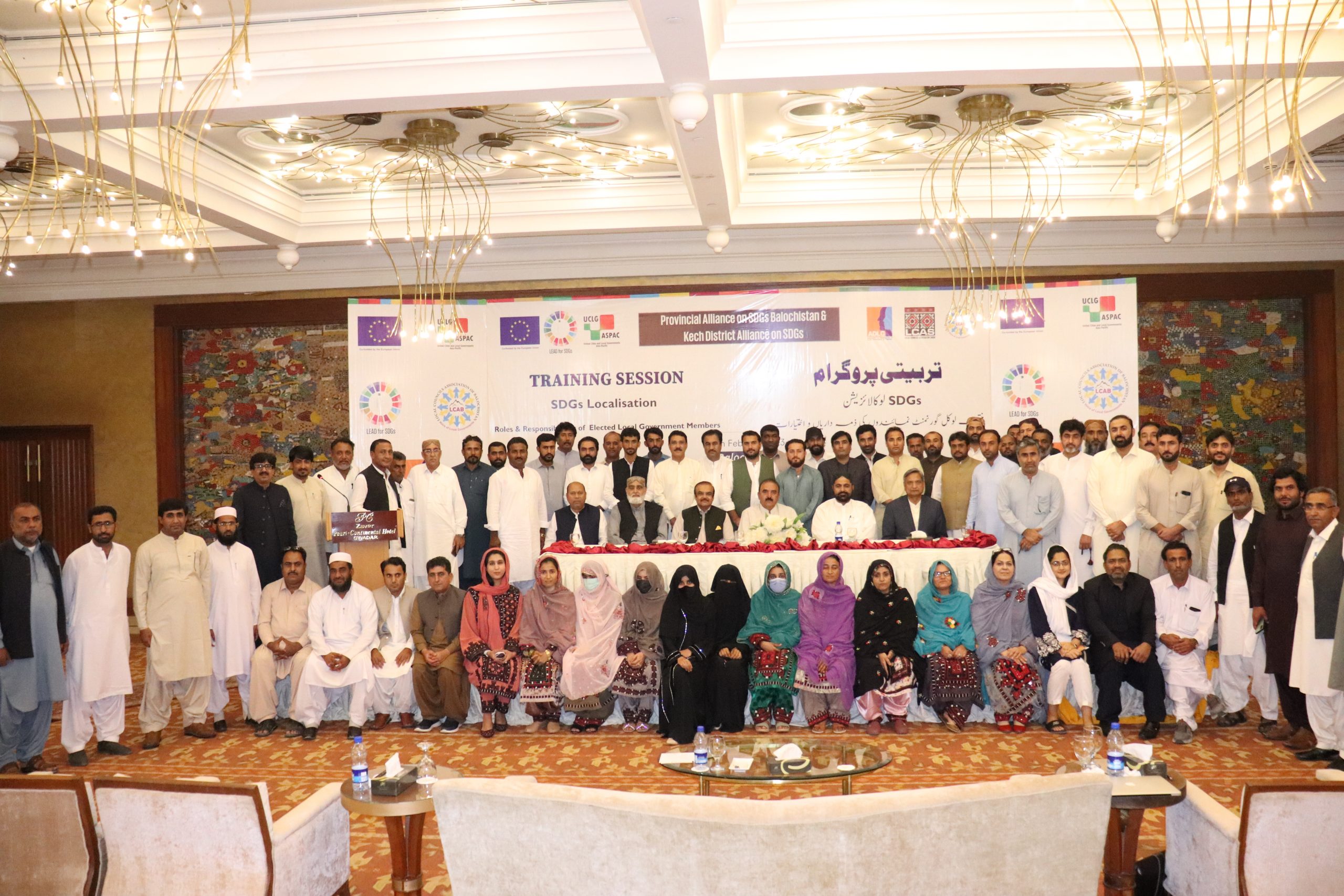 27 February 2023 (Gwadar)LEAD for SDGs organized a training programme for newly elected  Local Government Representatives of Makran Division on the Localisation of Sustainable Development Goals Responsibilities and Powers in accordance with the Local Government Law of Balochistan.
The meeting was held at The Zaver PC Hotel in Gwadar where the newly elected representatives of Makran Division and participants of the Provincial and District Kech SDGs Alliance participated in large numbers.
The capacity of all the newly elected local government representatives on various aspects of SDGs, and local development planning at the district level was examined. The organisers seek to achieve Sustainable Development Goals through local governments in Balochistan with the co-funding of the European Union.
The newly elected Chairman, Vice Chairman, Municipal Corporation, Municipal Committee, Union Council, Town and Ward of Makran Division were included. All these participants were given guidance on their responsibilities and powers under Balochistan local government laws, the Provincial Finance Commission, Eligibility Criteria of candidates, the vote of no-confidence and other important topics regarding LGs
All the members were briefly introduced to the SDGs and localization, the inclusion of SDGs on priority in the Annual Development Plan of districts, and the importance of prioritizing the targets at the provincial and national levels.
In the training program, Mr Muhammad Anwar, Director, PIPS, gave the participants a detailed session on how the members of local government perform their work in the context of SDGs, which included topics such as the importance and status of local government in accordance with the constitution.
Mr Anwar Hussain, Chief Executive Officer, ADLG briefed the members about the planning at the local level keeping in view the technical issues related to the transfer of funds at the grassroots level and the role of the provincial finance commission.
Ms Zaib Un Nisa, A&CB Manager, ADLG, shared with the participants the priorities of the SDGs in their areas and the current situation of SDGs in Balochistan.
Syed Sajjad Imran Shah, Local Governance and Public Policy Expert examined the capabilities of all the participants at the end of the training program and welcomed the feedback received from them. The participants were willing to raise their voices on every platform to ensure the delivery of funds at the grassroots level for the implementation of development plans. Localization of SDGs is also possible when there are functional local governments with available funds.
Mr Fida Hussain Dashti, Vice President of LCA Balochistan presided over the meeting and leaders from associations of Pakistan including Mr Mian Rajan Sultan Pirzada, President of National Local Government Association ADLG, Mr Asghar Shah Gillani, Former President of LCA Punjab, Mr Jamil Ahmed Kals, Vice President LCA Punjab, Mr Malik Imran Noel, Convener LCA Punjab.
The participants appreciated the unique initiatives put in place by LCAB, EU and UCLG-Asia Pacific under Project, LEAD for SDGs.