LEAD for SDGs Localisation in Pakistan Programme conducts Quarterly Meeting of Provincial Alliance Balochistan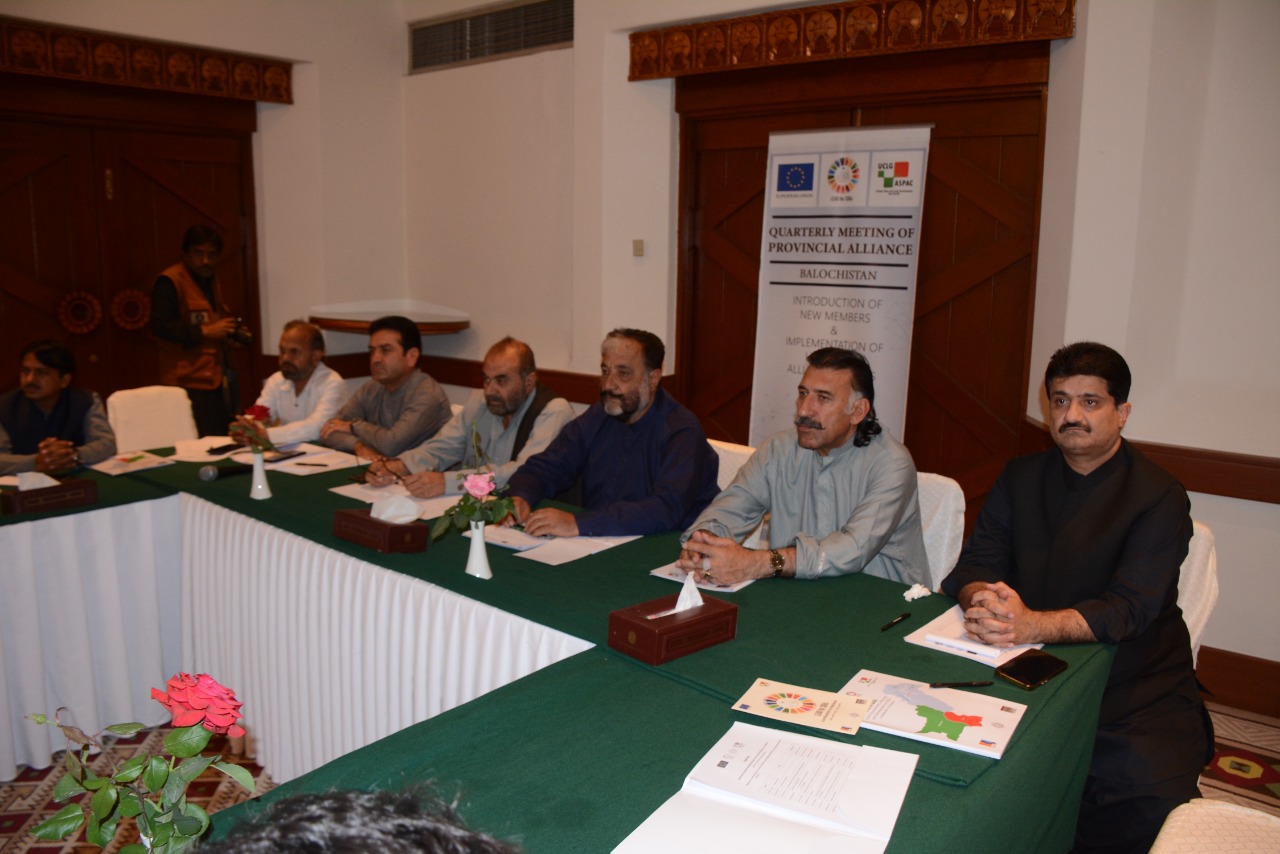 Introduction of newly joined members & Implementation of the Action Plan for the Provincial Alliance, Local Councils Association of Balochistan, the European Union and United Cities and Local Governments – Asia Pacific arranged the meeting.
Quetta (Wednesday, April 06, 2022) It is indispensable to come together in the forums where experts from diverse fields will be sharing their suggestions to accelerate the process of monitoring and localizing the Sustainable Development Goals in Balochistan, said President Local Councils Association of  Balochistan, Mr Mir Abid Hussain Lehri.
In the heart of Balochistan, the Quarterly Meeting for Provincial Alliance Balochistan on SDGs was organized to foster enabling environment for the local development of Sustainable Development Goals in Balochistan, under the Local Empowerment, Advocacy and Development (LEAD) for SDGs – Localisation in Pakistan Programme implemented by the Local Councils Association Balochistan (LCAB) with the support of the European Union (EU) and the United Cities and Local Governments – Asia Pacific (UCLG ASPAC). The President of LCAB, Mr Mir Abid Hussain Lehri greeted newly joined members of Provincial Alliance Balochistan on SDGs.
Stakeholders from different areas such as civil society organizations, private sector, academia, research institutions, bar associations, media, local councils associations, community leaders, and representatives from district administration gathered to follow up on the last quarter and formulate the action plan for future course of activities related to policy advocacy, awareness and capacity building regarding prioritised SDGs in Balochistan.
The technical and advocacy support of all the stakeholders will bring fruitful outcomes and extensive growth for achieving the agenda 2030 all over Pakistan, said Ms Zaib un Nisa, Coordinator, Association for Development of Local Governance while informing the participants of the objectives of the meeting and officially starting the agenda items.
Team Leader, LEAD for SDGs Localisation in Pakistan Programme, Mr Anwar Hussain tabled the proposed scope of future awareness activities for prioritised SDGs far and wide in Balochistan. He specifically mentioned that most of the time it is the issue of awareness and technical knowledge, as Government and Civil Society organisations are working hard on different areas of SDGs. Still, they are derived from the mechanism of monitoring and reporting on SDGs.
Mr Anwar shared with participants the drafted plan for Radio Awareness Campaign on SDGs across Balochistan. The Radio Awareness Campaign rundown is set on the crucial and untouched discussion areas carved out of prioritized SDGs for Balochistan.
These forums develop effective leadership of local governments to work on a material basis for the localisation of SGDs, said Mr Isa Roshan, General Secretary, LCA Balochistan while closing the meeting.
During the sign off all the participants praised the unique initiatives arranged by the partner organisations of LCAB, EU and UCLG-ASPAC under the LEAD for SDGs Localisation in Pakistan Programme.