Launch of SDGs Knowledge Hub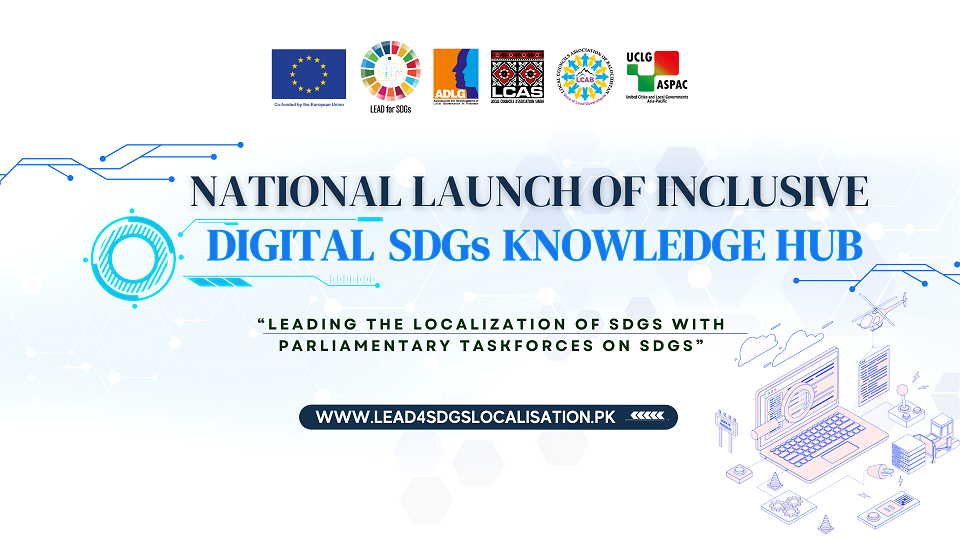 With the cooperation of local stakeholders, particularly local governments as the closest institution to communities, approximately 60% of all SDG targets can be strongly realised. Knowledge of SDG localisation is therefore a key priority in Pakistan, as evidenced by the establishment of its own SDGs Knowledge Hub (SKH) on January 26th, 2023, through the LEAD for SDGs programme.
The SKH is developed in collaboration between the LEAD for SDGs programme and the Planning Commission in Pakistan with the financial support of the Delegation of the European Union and UCLG ASPAC to provide tailor-made information on knowledge products for various stakeholders working on SDGs achievement. Stakeholders include development practitioners, policymakers, academics, and decision-makers.
This knowledge repository is not only unique because of its digitalised form, but also because it fosters data from all key stakeholders with appropriate accreditation on the hub for common usage. This will be important because an inclusive and authorised source of SDGs knowledge material has been difficult to discover in Pakistan.
Dr Bernadia Irawati Tjandradewi, Secretary General, spoke to give views on how knowledge hubs in general could promote effective learning and collaboration between local governments and other stakeholders, as well as UCLG ASPAC's own efforts to localise the SDGs through digital means. She emphasised that collaboration with knowledge partners is critical for gathering trustworthy data for other important stakeholders and common citizens so that local governments are well-equipped to encourage the very beginning of continual research and learning.
The launching ceremony was graced with notable dignitaries including Mr Ovidiu MIC, Head of Cooperation, the Delegation of the European Union to Pakistan, Ms Romina Khursheed Alam, Convener, National Parliamentary Taskforce on SDGs, Ms Bernadia Irawati Tjandradewi, Secretary General, UCLG ASPAC, Mr Mian Rajan Sultan Pirzada, President, ADLG and other prominent stakeholders.
All the dignitaries, uplifted the unique initiative of this SDGs Knowledge Hub development, for the better good of the community, as encouraged by a representative of the European Union Delegation, Mr Ovidiu MIC, who also urged the continued implementation of such innovations.
Seconding that is Mr Ahsan Iqbal as Minister of Planning Development and Special Initiatives, Pakistan, as the function of accommodation of reliable knowledge and information is relevant to the localisation of SDGs in Pakistan and at the global level in SKH, making this effort one-of-a-kind and impactful.
Furthermore, Ms Romina Khursheed Alam as a Convener of PTF on SDGs, shared the same enthusiasm, emphasising that the digital age must be used to share educational content; encourage skill acquisition on SDGs, and understand the local government system as a core. The official knowledge hub was then launched during the event, and moving forward, UCLG ASPAC will accommodate and embed all the reliable knowledge and information relevant to the localisation of the SDGs in Pakistan and globally through the SDGs Knowledge Hub (SKH).
Additional work will include continued search engine optimisation (SEO) and updates in terms of user interface/experience to enhance web traffic, up until the end of the LEAD for SDGs programme, where all intellectual and technological rights of the SKH will be transferred to the Ministry for its sustainable management and utilisation.
To explore the SDGs Knowledge Hub, please click on the image below: