Formation and Launch of District Alliance on SDGs in District Turbat, Kech, Balochistan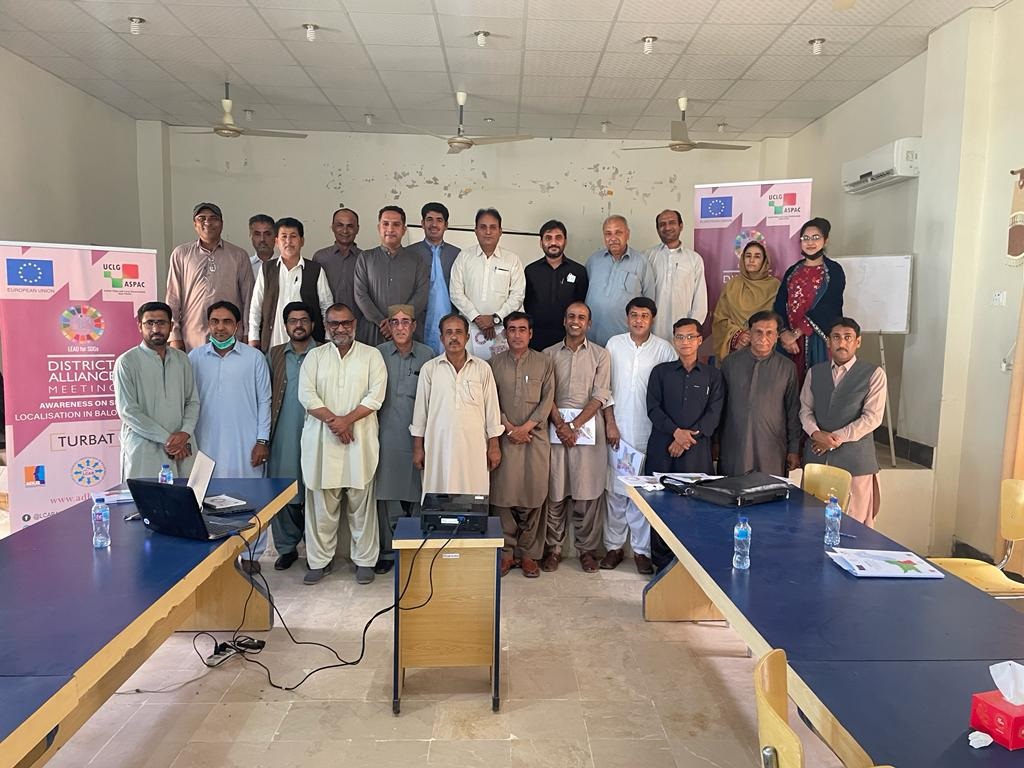 Friday, March 04, 2022 (Kech-Turbat) Establishing provincial and district-level alliances are essential, primarily to educate citizens about the concept of localization of SDGs, allowing them to participate in the process of developing SDG-aligned local development plans, said Mr. Abid Hussain Lehri, President Local Council Association Baluchistan (LCAB).
He was speaking at the "Formation and Launch of District Kech Alliance on SDGs Meeting" held on Thursday, March 03, 2022, at SPO Office, Kech. The event was organized by Local Empowerment Advocacy and Development (LEAD) for SDGs Localisation in Pakistan Programme implemented by United Cities and Local Government Asia Pacific (UCLG ASPAC) in collaboration with its member organisation, Local Council Association Baluchistan (LCAB).
The meeting brought together counterparts from civil society organizations, private sector, academia, research institutions, bar associations, media, local council association, community elders, representatives from the district administration and relevant stakeholders from line departments to form a district alliance in Kech and to deliberate on the future course of action for this newly formed alliance.
The idea of district alliance formation is based on a baseline study undertaken at the start of the LEAD for SDGs Programme to ascertain the country's situation concerning SDGs localisation and implementation.
This study provides evidence of the lack of coordination among different tiers of government and between various public, private and civil society organisations. Furthermore, the study has also unearthed that there is a very weak institutional relationship between the local governments, civil society and private sector based on informal rather than institutional linkages.
Mr. Anwar Hussain, Team Leader/National Advisor LEAD for SDGs Localisation in Pakistan Programme gave a brief introduction and result areas of the Project. In addition, he also threw light on the purpose of district alliance formation, the criterion for the selection of district alliance members, the scope of work and future meetings' patterns. 
An open discussion provided an opportunity for the participants on sharing their input on the terms of reference (TORs) developed for the district alliance. All the participants highly appreciated the efforts of LEAD for SDGs Programme and agreed to remain committed to the cause of localising SDGs at the local level while signing off the membership forms and becoming a member of the Kech district alliance.
On Friday, March 4, 2022, "day two of the event," an awareness workshop was held, during which the National and Provincial SDG frameworks were thoroughly explained. The implementing partner the Association for Development of Local Governance's staff trained the alliance members regarding prioritizing the SDGs at the district level. The session about data collection and reporting of SDGs implementing constraints was discussed at length. In the end, the open session was conducted for a better future line-up of activities.