European Union Ambassador to Pakistan appraised Project Activities of Local Councils Associations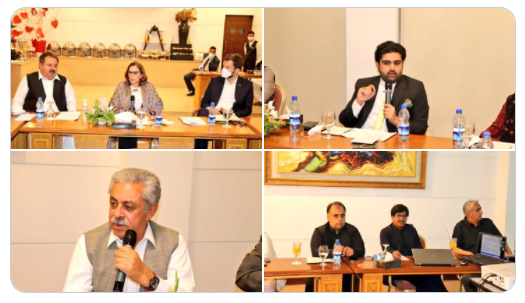 21st of June 2021
Local Councils Associations from Pakistan (Punjab, Sindh, Balochistan and Khyber Pakhtunkhwa including Association for Development of Local Governance from Centre) arranged a consultative meeting with Hon. Ambassador of EU to Pakistan Ms Androulla Kaminara. The meeting agenda carried discussion on the achievements,  implementation process, challenges and success stories under the Project SALG and LEAD across Pakistan supporting local democracy and local government members.
The Meeting was in a hybrid form as Secretary-General of Commonwealth Local Government Forum (Partner organisation in Project SALG), Ms Lucy Slack and Communications Manager, Ms Claire Frost. Joined the discussion virtually from London Office.
Heads of all LCAs, President LCA Punjab, Ms Fozia Khalid Warraich, President LCA Sindh, Syed Kumail Haider Shah, President ADLG, Mr Rajan Sultan Pirzada, Founding President LCA Khyber Pakhtunkhwa, Mr Yousaf Ayub Khan, President LCA Balochistan Mr Mir Abid Hussain Lehri and Vice President LCA KP, Mr Qasim Ali Shah have participated in the meeting along with Mr Arshad Rasheed, Advisor to EU Delegation in Pakistan on Governance.
Hon. Local Government Minister of Khyber Pakhtunkhwa, Mr Akbar Ayub Khan has also joined the meeting.
From LCA Staff, Mr Javed Hasan, Program Manager for LEAD and SALG (Projects funded by the EU), Mr Anwar Hussain, Strategic Advisor for SALG & CEO LCAs and Mr Sana Ullah Khan, Provincial Coordinator LCA KP participated in the meeting.
Mr Israr Ullah Khan, Focal Person LCA KP and Ms Shumaila Tabassum member WDC LCAKP joined the meeting representing LCAKP.
Comments
Ms Lucy Slack presented the before the project and after the project depiction of LCAs. In her presentation, she specifically mentioned the valuable support from the project that built the institutional capacity of all the LCAs across Pakistan. The most functional areas involve opening bank accounts, transportation facilities, offices, and registration of all the relevant government institutions for the transparent and efficient functioning of the business. Another interesting input was an introduction of the Territorial Approach to Local Development in more than ten (10) districts across Pakistan.
Presidents of LCAs shared their personal experiences and succus stories with the Hon. Ambassador. Ms Androulla Kaminara applauded the story of LCA Punjab President Ms Fozia for being the first female president of LCA Punjab. Ms Fozia shared her challenges and achievements during her tenure as a Mayor of District Toba Tek Singh from Punjab. She also shared the challenge of the dissolution of LG members in Punjab before the completion of their tenure.
President LCA Sindh, Syed Kumail Hyder Shah shared the support and unbiased approach of LCAs towards local government members. He shared the efforts of LCAs to advocate for timely local government elections for the last term. Currently, the LCA  Sindh is working to refine the LG legislation in Sindh for a better LG system.
Hon. Minister for LG KPK, Mr Akbar Ayub Khan had an interactive session on local government structure, legislation's salient points and upcoming local government election in Khyber Pakhtunkhwa with Ms Androulla Kaminara. Mr Yousuf Ayub shared his views regarding the need for national-level dialogues and continued support of the EU up till the government recognise the benefits of Local Councils Associations and start uncut support to them.
Mr Javed Hasan presented the background of both EU funded projects (LEAD & SALG). His input was regarding the benefits of Financial Sustainability that came through project support to LCAs. The associations across Pakistan built capacity on various local government-related aspects through awareness training sessions virtually or physically as per the strategic plans. He added, that the successful activities and achievements of LCAs under the Projects appealed to other potential donors to work with established organisations.
Ms Shumaila shared her views on being the first hand reciepient of valuable trianing sessions from the platforms of LCAs.
In the end, Vice President Mr Qasim Ali Shah tendered a vote of thanks to all the participants.