ADLG and Jamaat-e-Islami Pakistan together | Lobbying to influence decision-makers for sustainable Local Governments in Pakistan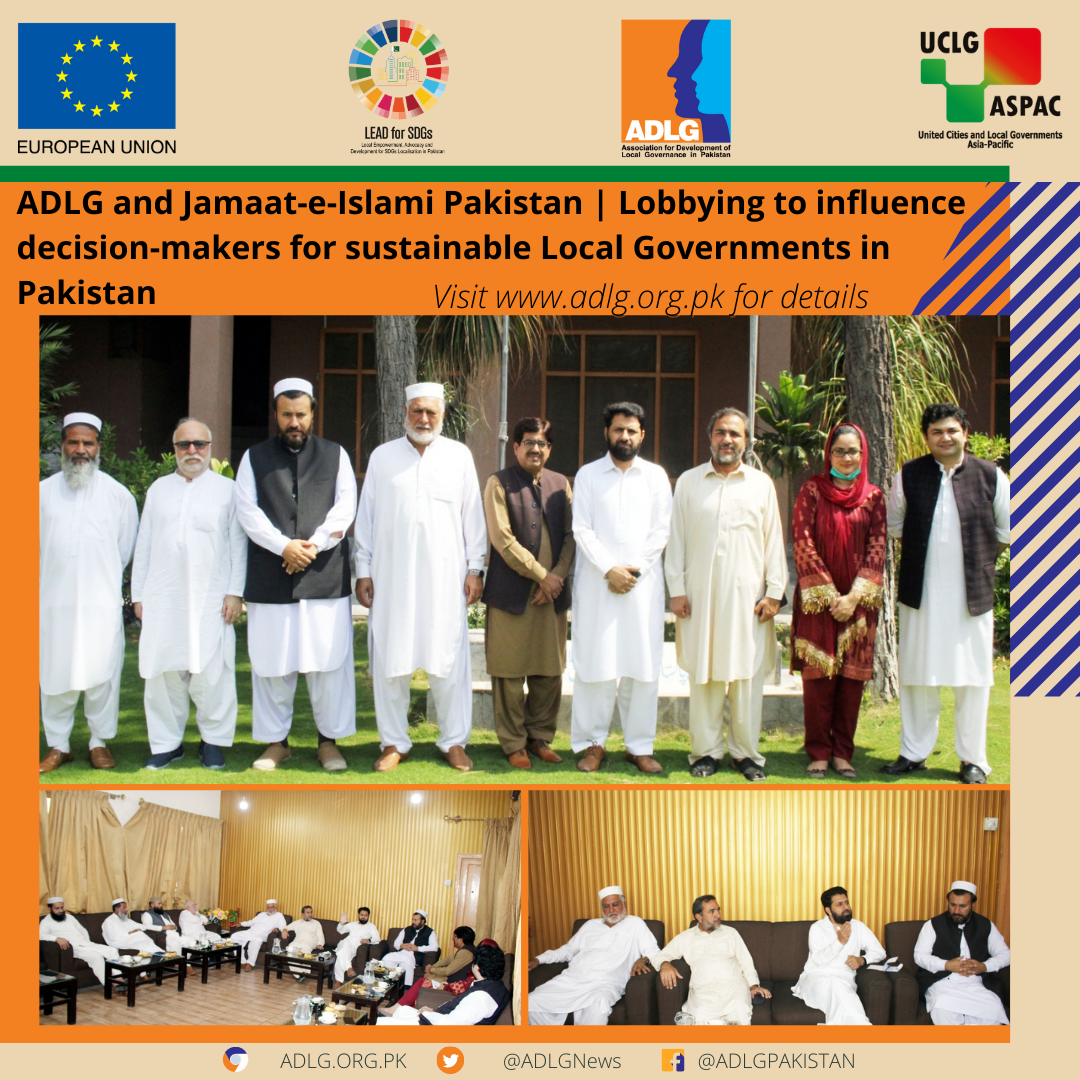 On the 16th of September, the Association for Development of Local Governance with the collaboration of the United Cities and Local Governments-Asia Pacific under the LEAD4SDGs and the support of the European Union arranged a Lobbying and Advocacy Meeting in Peshawar.
In the meeting, the ADLG leadership arranged to gather representatives from the Jamaat-e-Islami Pakistan- Khyber Paktunkhawa's prominent Political Party; these Jamaat-e-Islami representatives will influence, lobby, and engage parliamentarians to take steps to maintain the continuity and sustainability of the local government in KP and Pakistan.
The strategy has been formed to engage first-line leadership from Jamaat-e-Islami with the support of a member of Provincial Assembly Khyber Pakhtunkhawa Mr Inayatullah Khan who happened to be Minister for Local Government, Elections & Rural Development in 2013-18 tenure of Government. He also worked as a chairman of the "Select Committee on Local Government" of KP Provincial Assembly during his tenure.
The meeting agenda covered the discussion about introducing required LG-related amendments in the Constitution of Pakistan and permanently include a chapter on the local governments so no one can dissolve or discontinue the local governments unlawfully.
The leadership from Jamaat-e-Islami including Mr Inayatullah Khan (Naib Ameer, Jamaat-e-Islami KP, Member Provincial Assembly), Mr Siraj Uddin Khan (Member Provincial Assembly), Mr Sahibzada Tariqullah (Ex Member National Assembly), Mr Hafiz Hashmat Khan (Ex Provincial Minister), Mr Maulana Hidayat Ullah, Mr Himayat Ullah Khan Mayar (Ex MNA-District Nazim, President LCA Khyber Pakhtunkhwa), Mr Sahibzada Fasi Ullah (Senior Vice President LCA Khyber Pakhtunkhwa), Mr Sana Ullah Khan (Coordinator LCA Khyber Pakhtunkhwa)
Mr Inayatullah Khan vividly endorsed efforts of the ADLG for bridging all the stakeholders from government, civil society, and opposition parties to reach a consensus for achieving one agenda to sustain and support local governments in Pakistan.
President, LCAKP Mr Himayat Ullah Mayar briefed participants on the efforts of Local Councils Associations in Pakistan to strengthen the environment for sustainable local governments.
Furthermore, ADLG leadership containing CEO, Mr Anwar Hussain and Coordinator, Ms Zaib un Nisa participated in the meeting.