A world full of empowered women isn't one where men are marginalized. It's a world where everyone thrives.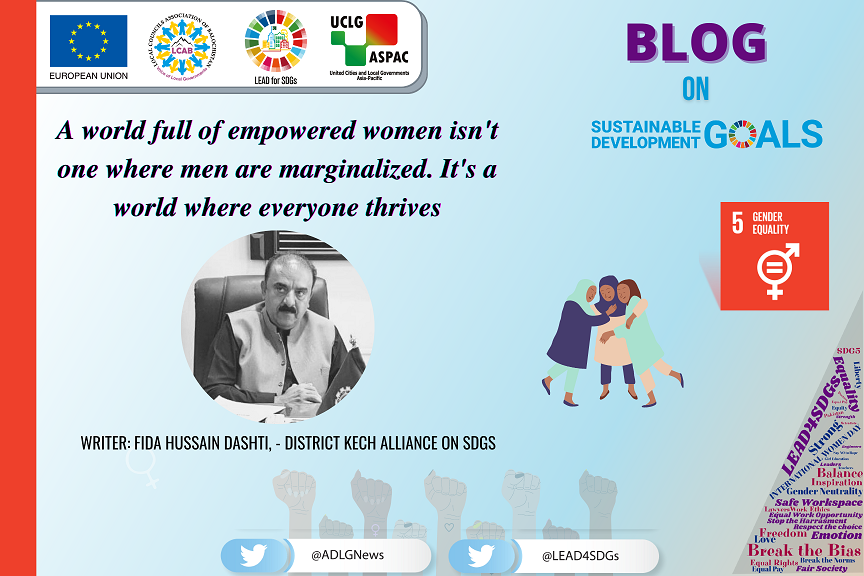 LEAD for SDGs Programme meaningfully thriving to upscale voices of women on all the pursuasive platforms. Inclusiveness of women in all the actions, formation of women caucuses by Local Councils Association at local level, and capacity building of aspiring female leadership are some of many efforts on the table. Give it a read to this piece of write-up depicting current need of hour for the real women empowerment.
Writer: Fida Hussain Dashti, – District Kech Alliance on SDGs
Gender-based issues, due to their global implications, have always been in the limelight over the last few decades. But unfortunately, its scope has always been limited to theoretical writings and practically it is a rare commodity. From third-world countries to developed ones, gender discrimination is being practised under the banner of social values, customs, and religious and historical reasons.  Around the world, a growing backlash against women's rights is threatening even well-established freedoms and protections.
An instrument which applies to this struggle is the Sustainable Development Goals Agenda (SDG), adopted by the UN member states in 2015 which is working as a catalyst to achieve a goal no 5 has 9 targets calling for an end to violence against women in public and private spheres and recognizes that "gender equality is inextricably linked to the right to education" and establishes a commitment to ensure inclusive and quality education for all and to eliminate all forms of discrimination against women and girls by 2030.
The Sustainable Development Agenda set a deadline of 2030 for the achievement of Gender equality and the empowerment of all women and girls but with under 8 years left to meet this agenda, the world is not on track. Legal and Political advances to ensure gender equality in all walks of life find strong obstacles to their implementation and due to cultural barriers, a lack of governmental will and the advancement of fundamentalist, conservative and religious trends.
The United Nations is instrumental in the promotion of a system based on the rule of law as gender equality is at the very heart of human rights and a matter of equitable distribution of power, opportunities, and resources in society. International Covenants and treaties also save provisions for the elimination of discrimination based on sex. In addition, the Convention on the Elimination of Discrimination Against Women is dedicated to the realization of women's rights. Moreover, the Universal Declaration of Human Rights adopted in 1948, set the foundation for the development of the corpus of International human rights law.
If we see particularly through a national lens then the Constitution of Pakistan, 1973, incorporate certain provisions which ensure special representation of women in Parliament. There is a total of 342 members in the National Assembly of Pakistan, which includes 60 seats reserved for women as given in Article 51. Women can also contest in the general seats in the National Assembly.
"Despite all the developments and pragmatic efforts mentioned above, gender equality seems nothing but to build a castle in the air."
As if we put a glance at the special representation of women in the house so, the majority of the male candidates contest on general seats leaving fewer options and chances for women candidates to take part and be elected to the general seats, in this regard the reserved seats for women should be increased as 60 reserved seats are insufficient where half of the country's population is female gender. Contrary to the developed countries, where women are hand in glove with men in every walk of life irrespective of any so-called gender bias, the plight of the womenfolk in developing and underdeveloped countries are desperate. Gender discrimination has reached to an alarming situation and is a widely practised issue in Pakistan. In order to cope with this issue, we need to take serious steps to eliminate gender disparity by promoting education, training and professional development for women and by ensuring all the fundamental rights incorporated in Articles 9 to 28 in the Constitution of Pakistan, 1973,
So, without heightened commitments from the global community, gender equality will remain nothing more than an unrealized goal. Furthermore, it is the need of the hour to implement creative development, and marketing practices that empower women and ensure equal representation of females in the public and private sectors. Strategies that support women's empowerment can contribute to women's ability to formulate and advocate their own visions for their society – including interpretations and changes to cultural and gender norms.
Going forward, we can usefully focus on three aspects to continue to address the global issue of gender inequality in innovative and more fruitful ways. These are: to further the contemporary debate and emphasis on intersectionality in relation to gender inequality; to highlight the increasing academic focus on masculinity and gender relations and their relation to feminism; and strategies to address issues regarding racial groups which are creating divergent and uneven outcomes for women.
The Project is co-funded by UCLG ASPAC and the European Union.